Saying that business is booming for a major aerospace company's aircraft interiors segment would be a slight understatement.
Companies like B/E Aerospace – as reported in a 2014 feature on Runway Girl Network, which today posted record second quarter earnings – have never been busier due to the mass of aircraft on order that need seats, galleys, lavs and other interiors equipment, as well as the demand for cabin retrofits.
"The combination of Airbus having introduced the A320neo and introducing the A350 and the A380, and Boeing having introduced the 777X as well as the 737 MAX on the narrowbody side and rolling out 787s in quantity, everybody in our industry is really, really busy, working like hell to respond to requests for quotations, [and] quotations on retrofit programs so they can conform their fleets."
"We have a lot of brand new cabin interior equipment going into these aircraft," company chairman and Amin Khoury said during an investors call today.
Super First Class suites, alone, are seeing a "record backlog" – largely related to new aircraft.
Additionally, the company holds about a 50% share of economy class seating programs and 60% of business class.
As for A350 galleys – of which B/E is the single source supplier – "we are up to our necks in getting galleys out", says Khoury.
"There has never been a period like this."
It's little wonder, then, that B/E saw revenues increase 28.1% to $1.09 billion in the second quarter.
On a GAAP basis, operating earnings were $185.3 million, and net earnings were $108.6 million.
Acknowledging that B/E beat consensus estimates for the quarter, JP Morgan says it nonetheless has "several bones to pick, including weak margin in CMS [consumables management segment] despite (or perhaps because of) strong sales, very poor cash conversion and a reduction in cash flow guidance due at least in part to investment in recent oil and gas acquisitions, and a larger amount of excluded items from consideration in adjusted EBIT."
Backlog was only flat at $8.9 billion despite the completion of several acquisitions during the quarter, suggesting that strong organic growth began to peak in mid-to-late 2014.
So, is it possible that aviation companies like B/E Aerospace should be concerned that OEM orders had peaked in 2014 – thus making 2015 a year where demand will climb to follow suit?
Said Mr. Khoury:
"They have a 10,500-airplane backlog and deliveries as a percentage of that backlog are very modest and conservative, and I think the combination we have here of high oil, low interest rates, record travel, airline profitability, it doesn't get much better so I think we should expect a sustained period here of elevated deliveries and the companies supplying equipment for these airplanes will have elevated revenues for a long period of time."
However, aerospace companies are pressing ahead with plans to split into two independent, publicly traded companies.
One will be focused on aircraft cabin interior equipment – design, development, manufacturing, certification and direct sales on a global basis ("Manufacturing Co") and the other focused on distribution, logistics and technical services for the aerospace and energy services markets ("Services Co".)
During today's conference call, Khoury said B/E expects that the Services business will be spun off from the corporation from B/E Aerospace before the end of the first quarter of 2015.
"We are continuing to evaluate our alternatives. The process is well underway. We have an outstanding team of advisers and we are doing our work and when we have something additional to say we will do so. I couldn't comment more than that at this time."
Yet, pressed by analysts as to whether B/E might still take another route, Khoury said,
"I think that the probability that the Services business gets spun off as a prestanding public company before the end of the first quarter is a very, very high probability. I think you should expect that that is going to happen. We nevertheless continue to review all of our alternatives, continue to evaluate other prospects.

Obviously, if someone were to lob in a bid for one of the two businesses which would generate a return on an after-tax basis which we think would be higher than – substantially higher than – the expected trading price of the two companies in aggregate, we would evaluate it.

Obviously we would evaluate it, that's what we're doing. But our expectation is very high that the consumables segment will be a free-standing company in 2015."
B/E, like others in the aviation industry, has not yet determined if it will raise guidance for the third quarter.
"Let's see how we do in the third quarter, and if warranted we'll increase guidance at that time. Just not ready to have another raise at this time," says Khoury.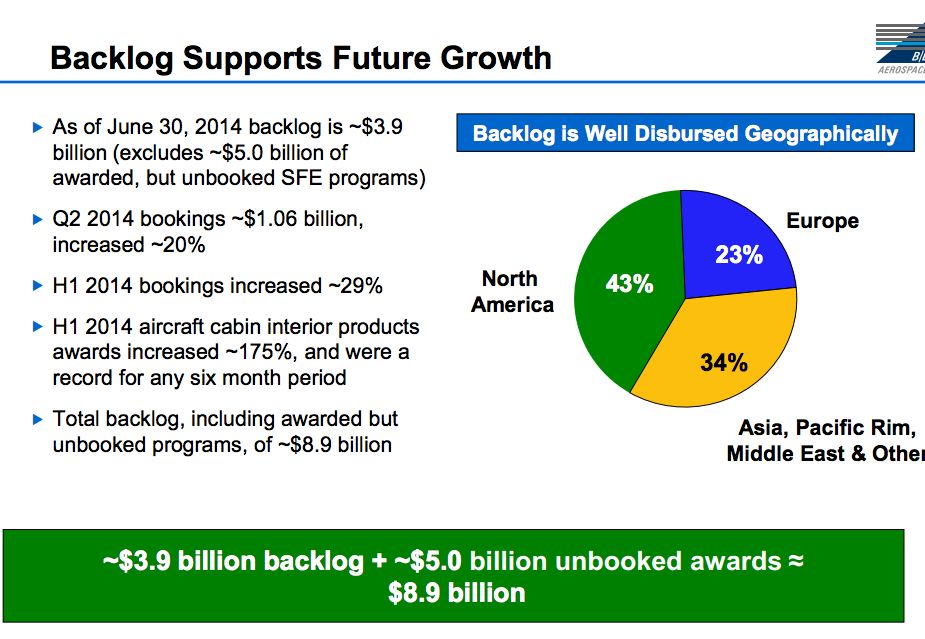 News article and 2014 economic data courtesy of RunwayGirlNetwork.com 2014 article.